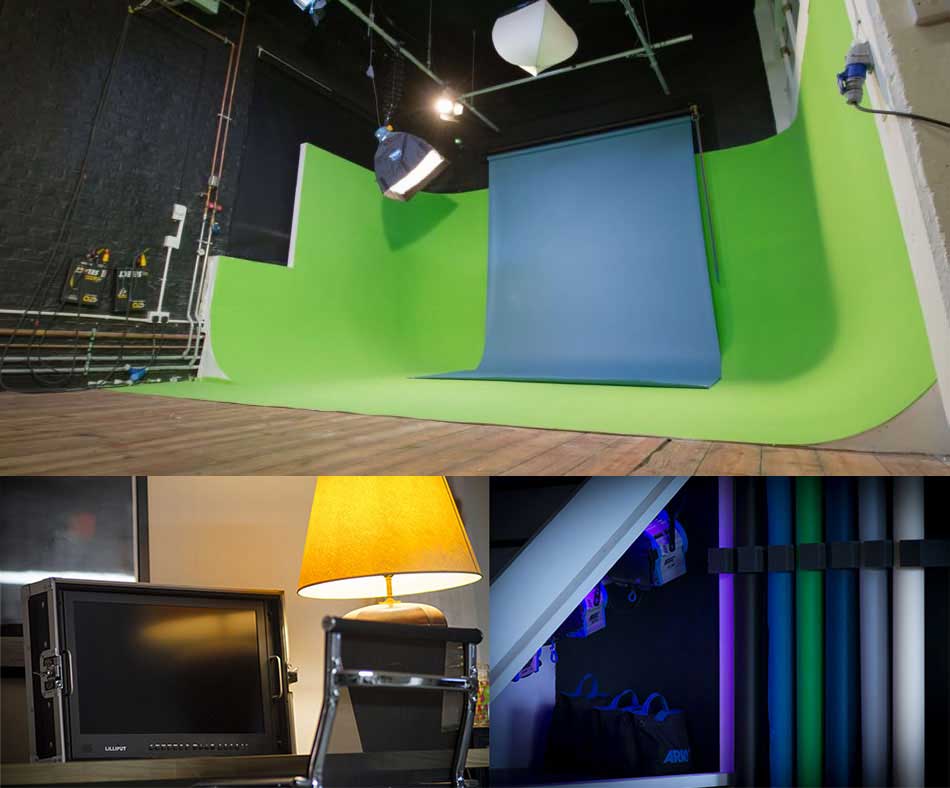 Studio Green: Features

"Studio Green" is a 4.5 by 4.5m cyclorama (infinity cove) embedded in a unique studio space.
Features:
Stylish green room
Make up area
Studio mezzanine viewing area
Cyclrorama:
Infinity curve on three sides
High ceiling
Lighting rig (cyclorama lighting included)
Pull down pantographs
16 amp power sockets (studio floor and rig)
9ft colorama with a selection of colours
In house arri lighting avaialbe for hire
Sand bags and consumbles avaialbe for hire/purchase
Full Black out curtains and flooring available
Green Room
Our Greenroom provides a private space to get changed, get prepared or just chill out during your video production. A good amount of space with plenty of mirrors, including a clothing rack and steamer always helpful for costume and set design. Plus the Chesterfield sofa pulls out to become a bed if you need some extra shuteye before or after a long day shooting or to be used inside our film cove for your studio video.
Features:
Chesterfield Sofa
Arm Chair
Coffee Table
Clothes Rack
Privacy Curtains
Studio Green: Hair and Makeup Station

Get dolled up in our hair and makeup area. Plenty of workspace for all your hair and makeup needs, including a big vanity mirror with a beautiful soft glow of light with dimmable bulbs. Relax, get comfortable and help yourself to a coffee.
Features:
Large antique pedestal desk
Arm chair and stool
Hollywood dimming makeup mirror
Good views down to the studio floor
Studio White: Features
"Studio White" is a long warehouse studio 16 meters by 4.5 meters, It features a white cyclorama (4.5m x 4.5m) and a huge studio floor with original wooden floor boards along with a Victorian warehouse style window.
Features:
Natural light
Great overall length
Original wooden floor boards
Tall Ceilings
2x 32 amp sockets
6x 16 amp sockets
16x 13 amp sockets
To get in touch for enquiries or bookings please use a contact form below or call us driectly.